| | |
| --- | --- |
| By Bucky | Tuesday, 23 Jun 2009 |
#8 – Shatterhand (60 Votes)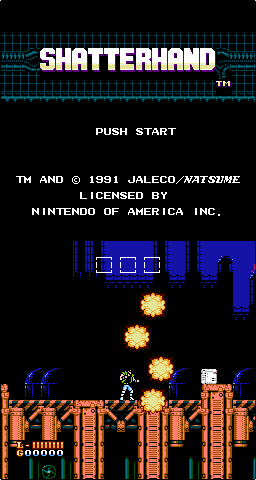 –
Developer: Natsume
Publisher: Angel Studios (JP), Jaleco Entertainment (US + EU)
Year: 1991 (JP + US), 1992 (EU)
AKA: Tokkyuu Shirei Soul Brain
–
Entering our list at #8 is Shatterhand. This soundtrack is recognized for boasting an energetic display of rock and heavy metal, re-imagined for the NES soundchip. It's quite fitting for a game where you play as a dude who blows things up by punching them.
Take a
listen to the opening stage (Area A) music. It's a bombastic journey of jarring rhythmic changes, topped with extremely catchy power metal-esque leads. While not all of the music in the score is necessarily as driving, it's all very catchy and composed with equal care. There's not a lame tune in the entire thing, jingles included.
Take the Area D theme, for example. It starts off a bit more relaxed (at least in comparison to Area A), but still manages to culminate in an epic chorus that'll have you singing along to the pulse waves. Each track offers some absurdly catchy moments, no doubt explaining why this somewhat lesser known title places so high on our list.
The music is composed by Iku Mizutani (Metal Gear, Dragon Fighter) and Kouichi
Yamanishi (Shadow of the Ninja, Dragon Fighter).
Listen to the complete soundtrack on youtube here.