| | |
| --- | --- |
| By Bucky | Monday, 22 Jun 2009 |
#9 – Gimmick! (59 Votes)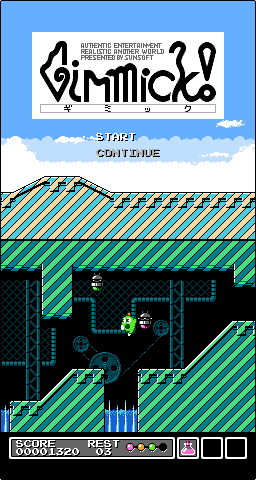 –
Developer, Publisher: SunSoft Year: 1992 (JP), 1993 (EU) AKA: Mr. Gimmick
–
Never released in the United States, Gimmick! is jump-and-run / puzzle platformer from SunSoft. Like Journey to Silius, it is viagra cialis usa another one of the handful of SunSoft soundtracks that employs the use of bass samples. Although perhaps a bit more akin to Hebereke / Uforia, compositionally, Gimmick! offers a completely unique auditory experience for video games of the era.
For starters, it is the only game to make use of an
additional mapper known as the FME-07 for sound expansion on the Famicom. It had three additional pulse waves, which allowed como funcional el cialis for a different approach to arranging for the system.
The triangle wave, for example, is hardly ever used for melodic parts. It pops up as a melody in the final stage music, Sophia (Take 2), but is otherwise mostly reserved for percussive parts. The extra channels also allowed for working more heavily with chords, buy cialis in france as opposed to using arpeggio effects, as well as drenching some parts in unprecedented amounts of reverb / delay. I think it suffices to say that, if SunSoft designed a new chip and sound driver completely for Gimmick! and Gimmick! alone, they weren't skipping out on effort here.
There are some other examples of sound expansion out there, but none, in my opinion, crafted as careful and well produced of an overall sound. In other words, it's not just the extra voices that make Gimmick! what it is. Even the snare drum sounds snappy as heck at times for NES music, for example, and that has nothing to do cialiswomen-femalecialis.com with the expansion. I'm not sure I can put narcotics online pharmacy it much better than a youtube viewer in response to the ending music, Good Night (Take 2), so I'll just offer his words here-
"The soundtrack to Gimmick is exquisitely beautiful. It just sounds like a fanciful, light-hearted adventure. Everything about this game drips with care and love."
While this game really captures a sense of magic with its bright, infectious melodies, it also isn't afraid to explore interesting realms of trippy, progged-out mayhem. Some of my other favorite tracks are Happy Birthday, Just Friends, Identity Believer, and Strange Memories of Death.
The music is composed by Masashi Kageyama and programmed by Naohisa Morota.
Listen to the complete soundtrack on youtube here.